Perth Modern School today is Western Australia's only academically selective school where students enter a culture of achievement unmatched in the State. The school supports the growth of individual students to their full academic, intellectual, social and physical potential. It meets the needs of curious, imaginative and gifted students who enjoy learning and bring with them a range of diverse abilities and interests. The differentiated curriculum supports success beyond the school environment and provides students with unique enrichment and extension opportunities.
The School's student population has grown from 930 students in 2011 to 1440 students as of 2021.
Academic Performance
The Class of 2022 has achieved incredible results in the WACE, with seven perfect ATARs of 99.95, 77 ATARs above 99, 17 General Exhibitions and five Subject Exhibitions. Perth Modern School topped the State in performance in an incredible 26 subject areas.
Jessica Doan was awarded the Beazley Medal: WACE after achieving the highest exam marks across five ATAR courses in Year 12.
Seventeen students were awarded a General Exhibition, the highest ever from one school, and four students won five Subjects exhibitions in Literature, Modern History, Chemistry, Japanese: Second Language and Mathematics Methods.
Please see below for the School Curriculum and Standards Authority award data for 2022:
Beazley Medal
WACE
No. of General Exhibitions
17
No. of 99.95 ATARs
7
No. of 99+ ATARs
77
Subject Exhibitions
Chemistry
Japanese: Second Language
Literature
Mathematics Methods
Modern History
No. of Subject
Certificates of Excellence
38
Teachers at Perth Modern School are merit selected and the school recruits, trains and retains the best available teaching staff who possess specialist skills and experience in teaching gifted and talented students.
The school is very focussed on developing synergistic community partnerships with universities, professional bodies and research organisations which will further enhance the opportunities available to today's students.
Perth Modern School has a dedicated parent body with active representation on the School Board which overviews school planning processes, priorities and budgets and consults with the Principal. Parents also participate in the Parents and Citizens' Association and in a range of committees, such as Friends of Music and Friends of Mod.
In 2012, Perth Modern School became an Independent Public School, which has provided for greater autonomy in decision making, enhanced local governance, opportunities for innovation and increased financial flexibility.
School redevelopment since 2009
As part of the development of Perth Modern School as WA's only academically selective secondary school, the State Government allocated more than $25 million to upgrade the existing school buildings and to construct state-of-the-art new facilities to provide an outstanding learning environment for gifted and talented students.
Opened in February 2009 were the library, resource centre, lecture theatre, performing arts centre and cafeteria. In August 2009, the creative arts centre, research centre, technology centre and media studio were completed. October 2009 saw Student Services and Administration move into their newly built accommodation.
In October 2012, the State Government announced $2.3 million in funding for a new state-of-the art Health and Fitness Centre, which would replace the old gymnasium which had been built in 1961. Named after donors, Modernians Don Tyler and Malcolm McCusker, the Tyler McCusker Sports Centre opened in March, 2015.
The Cyril Tyler Auditorium, a 700-seat multipurpose state-of-the-art space ideal for student-centred collaborative learning and music and theatre performances, opened in September 2021. The Raise the Roof campaign for the auditorium was generously supported by Modernians and parents, and together with the use of building funds reserves, resulted in a wonderful new student hub for innovation, knowledge and creativity. The name was chosen by major donor, Don Tyler, to honour his step-father.
Latest Perth Modern School Newsletter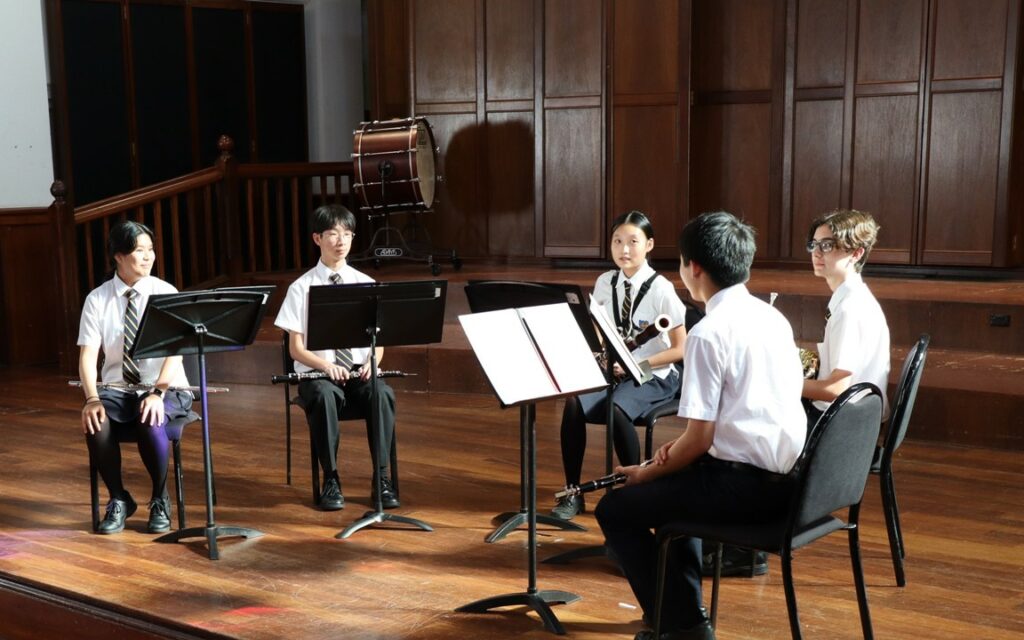 Last modified on 19 February 2023